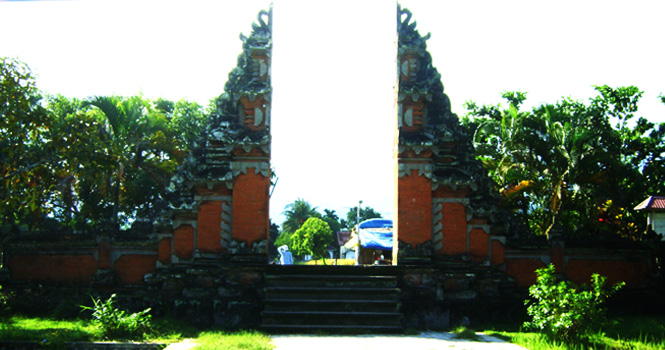 In addition to the natural attractions that presents a beautiful panorama, Lombok Island also has many cultural tourist sites that are worth visiting. Among these are cultural and tourist sites are also due to the history of many ancient and historic buildings in Lombok island, one of which can be seen in Pura Lingsar.
Pura Lingsar is a historical relic in the form of building temple which was built by Anak Agung Gede Ngurah Karang Asem in 1759 that was dedicated to two types of social groups with the goal of uniting inwardly Sasak and Bali people.
Pura Lingsar was built beside a place of worship which is constitute the sasakness worship place which is called Kemaliq Lingsar. "Kemaliq" derived from the word "maliq" in Sasak language means sacred or holy. The springs that exist in this Kemaliq by the Sasak sacred or sanctified as the place they believe to be the loss of a place ( moksha ) a broadcaster Islam Wetu Telu, Raden Mas Sumilir of the Kingdom Medayin. While "Lingsar" derived from the word "Ling", which means revelation or word, and "Sar" which means unlawful or clear. So Lingsar means clear revelation. While the source of the water is located not far from the area, and named Ai'Mual ( Water Incurred ) located in the east side of Lingsar.
In this temple area once in a year the society do some ceremony held between Hindu and Muslim Wektu Telu, which is famous with Festival Perang Topat (War using Topat). Perang Topat is a ritual activity in the form of war and Topat or diamond used as a weapon by means of throwing a fellow. Perang Topat held before planting rice but after the arrival of the rainy season. The intent of this event is to return the results of the soil ( in the form of Topat ) to the origin ( Lingsar ). The result will be a tinder ( Bubus vacant ) for rice seeds to be planted. Not only that, in this area there is also a temple pond known as Ageng Ponds which was built in honor of Lord Vishnu, and in it there are a fish that will only manifest themselves when you given a diet of boiled chicken eggs. In addition to tuna fish which are owned by the uniqueness of the lake is the number of coins scattered on the bottom of the pool, coins were thrown by all the visitors who came, because they believe in throwing a coin into the pond then fortunes will be smooth. Here also you can find Pancor Siwak that you can used to bath.
How to get there
Lingsar located in Jln.Gora No.02, Lingsar Valley, Lingsar Village, Narmada district, West Lombok, West Nusa Tenggara Province. From Lombok International Airport you can use a car or motorcycle to travel about 53 minutes, and 27 minutes drive from the city of Mataram because it is located about 15 km from Mataram City Center.
Related Posts