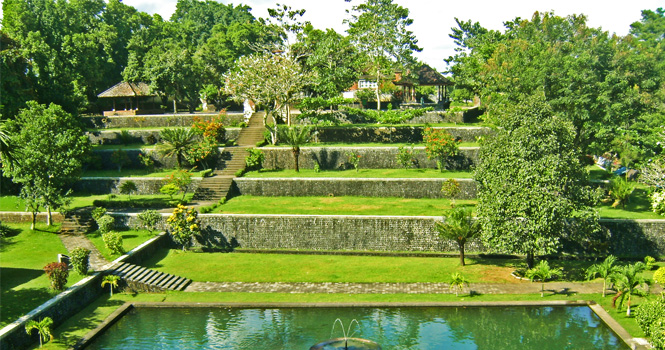 Narmada located in Lembuak village, Narmada District, West of Lombok regency, about 10 kilometers east of Mataram city, West Nusa Tenggara Province, Indonesia. Narmada is a water park which is a replica of Mount Rinjani and Segare Anak lake, this park is one of the sacred places by the people in Lombok. Nowadays, Narmada park is under the auspices of the Ministry of Education and Culture in NTB which has been defined as the objects of cultural heritage. Between 1980-1988, this park has undergone several renovations. Some parts have been weathered and broken, like the cliffs pools, gardens, fences, and the temple has been repaired, but still maintained its authenticity. One of the buildings are still awake condition is Bale Loji which is the resting place of the king and his family. The name of Narmada itself was taken from the name of a tributary of the Ganges which is very sacred in India named Narmada Nadi. Here are some important things that make Narmada park become famous among others, are as follows:
1. The Fountain of Youth
One of the things that makes Narmada Park was famous is Bale Petirtaan, within there is a wellspring which is the confluence of three water sources: Suranadi, Lingsar and Narmada itself. Hinduism people believed this water as a Tirta or sacred water, and visitors believed that sacred water as a wellspring of youth. For visitors who want to pray (Hindus) in Bale Petirtaan, will be asked to pay of 50 thousand in exchange for money offerings, which will put up a guard. Furthermore, with a shawl at the waist, visitors will be asked to entry Bale to deliver their devotion. In this Bale Petirtaan, there is a holy clear water flowing, which can be used for washing face or can be drunk immediately after worship. If visitors do not have much time and no time to pray, you can buy the water. Each of tourists visiting always looking for the holy water souvenirs for their relatives, not only local visitors but also foreign tourists are interested in this holy water, as a prohibition that apply in Bale Petirtaan is using holy water to wash the feet, in addition,women who are in menstruation period are banned from entering the Bale.
2. Bale Terang (Bale Loji)
Narmada was built by King Anak Agung Ngurah Karangasem in 1727 AD, as the resting place of the royal family. Bale Loji shaped like a houses stage consisting of basement that serves as a warehouse. Its upper part is divided into three sections, two sections at the ends (north and south) as a king bed. Meanwhile, the living room is an open area as the king saw the sights eastward in the direction of Meru. Not only Meru, from Bale Terang, visitors can enjoy the swimming pool view with clear water and from long distance looks a red flowering trees, which breathed fresh aroma typical of forest flowers. Narmada is used as a Pakelem ceremony which generally held in every full moon Çaka fifth year. The panoramic beauty of Narmada make it as a tourist attraction that became one of the most favorite destination for tourists, both local and foreign tourists.
3. Bale Pawedayan
In addition to the Bale Terang (Bale Loji), Bale Pawedayan also serves as a place to read a Wedha book.
4. Pura Narmada
The sacred building of Pura Narmada is also not less interesting to caught the visitors attention. This temple is one of the eight oldest temple on Lombok island. This sacred place is touted as a miniature of Mount Rinjani, which is surrounded by impressive verdant crops, forests and beautiful expanse of the lake will pamper the eyes of every visitor who comes to this place.
Visiting Narmada can bring a peace of mind to reconcile. This attraction entrance fee of Rp.5000 Likewise, if travelers want to feel the cool refreshing water in the swimming pool, will be required to pay Rp.5000 per person. If you want a gift, please choose a variety of necklaces and bracelets are sold in the merchant near from Bale Petirtaan. Various colors and patterns that look alluring accessories of view. It costs only around Rp.5000 to 10.000. Necklace and bracelet is guaranteed durable and the colors do not fade.
How to get there
Narmada Park located just 10 miles east from Mataram city, you can get there by car, taxi or motorbike which will only take about 30 minutes away.
Things To Do
Swimming

Relax

Enjoying the fountain of youth

Seeing the remains of the historic
Related Posts