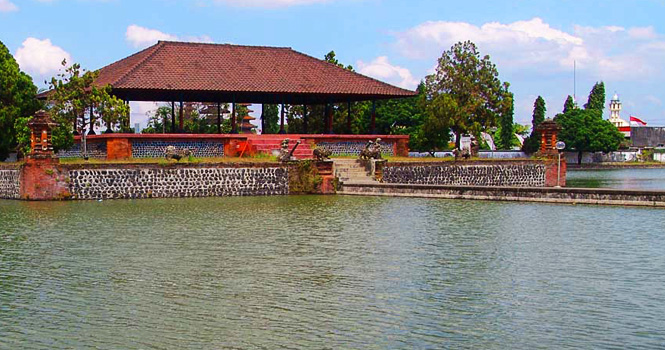 Mayura Park is unique and distinctive blend of parks concept, The ponds and temples of worship that have a building that is still thick with shades of Bali, Java and Lombok. Mayura Park was evidence of the Singasari kingdom existence and the people of Bali in Lombok in 19th century. This park was built by AA Ngurah Made Karangasem which is a king of Mataram kingdom, this park was built precisely in 1744, and located in Cakranegara, about 2.5 km from the city of Mataram, with an area of ΓΆ€‹ΓΆ€‹244, 60 feet x 138.50.
The building was originally known as Kelepug Palace Gardens, inspired by the sound of the pool water (Kelepug-kelepug) caused by the swift water out of the spring in the middle of the pond. Over time, in 1866 the name of the building changed into Mayura Palace, which in Sanskrit means peacock. It is said that in this park there are many peacocks wandering prey on snakes that live in the park.
Because it has strategies location, as well as many historical value contained in it, the park has become a tourist destination frequented by tourists both local and foreign. Inside the park you can enjoy the beauty of unique buildings and typical in the past, which will bring a mix of natural shades, religious and historic atmosphere that can deliver natural peace.
Mayura park is equipped with a pool in the middle of the pond there is a building called "Bale Kambang" are used as people's court (Raad Kerta) it used to prosecute a case in the Dutch colonial era. Within this complex found a lot of the mangosteen tree lined which adds to the coolness of air conditioning in the park. If you visit this site, you will be accompanied by a guide that tells about the history of the park.
How to get there
Towards Mayura Park requires about 15 minutes drive from the Narmada districts (where public transport stops). The journey can be reached by using public transportation, or use a taxi, But when the journey starts from the capital city of Mataram, the trip is only applied for 10 minutes to ride public transportation fare or use a taxi.
Related Posts