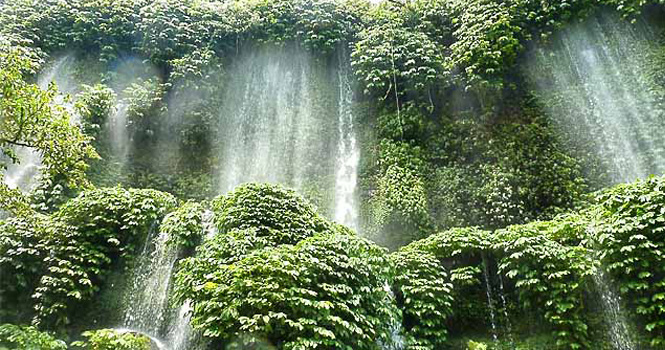 Batara Lejang waterfall is one of waterfall which is located at the foot of Mount Rinjani Lombok, which is also located in the area of Mount Rinjani National Park. Precisely the Waterfall located in Senaru village, Bayan subdistrict, North Lombok regency, West Nusa Tenggara province. Batara Lejang waterfall located in the upstream of above the Sendang Gila and Tiu Kelep waterfall, it has a greater size than two others waterfalls, but not as high as Sendang Gila and Tiu kelep waterfall.
One of the main attractions of Batara Lejang waterfall is the source of hot spring water which has crystal clear water. Here you can relax and keep warm. This place was very natural because it has not been known by the domestic and foreign tourists travelers.
How To Get There
To reach the waterfall, you must pass the hiking trail to Mount Rinjani. The journey from the first checkpoint until the door of the jungle can be reached in about 30 minutes. Furthermore, from the jungle entrance, there path to Batara Lejang. It is recommended if you want to get there to hire a guide (guide) are provided at the entrance or bring a friend who had been there before.
Related Posts