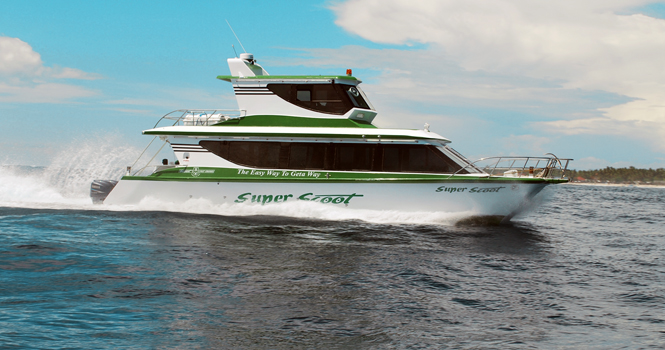 Scoot Fast Cruise is the fastest boat and specialist boat transfer from Bali to Nusa Lembongan, Lombok and Gili Island (Included Gili Air and Gili Trawangan). Scoot Fast Cruises is an international owned and has been awarded in 4 years as the leader business cruise operation between Bali, Nusa Lembongan, Lombok and Gili Island. Scoot Fast Cruises is an internationally owned operator whose attention to detail and safety is paramount to our operation our safety record since 2005 is impassable and is covered by comprehensive Indonesian and International insurances.
Super Scoot Specifications:
Length : 14 meters
Beam : 04 meters
Draught : 03 meters
Weight : 4 Tones Dry Ship, 10 Tones Loaded and Wet Ship
Fuel : 1400 liters
Fresh Water : 400 liters
Engine : 4 x 200 HP Yamaha 4 Stroke Out Boards
Crew : 5
Passengers : 50
Speed : 30 Knots
Safety Equipment:
55 pc Life Jackets
2 x 25 passenger Life Raft
2 set Flare
EPIRP
Fire Extinguisher
Fire Pump
Marine Radio Communication
Navigation Equipment:
Radar 18 Mil
Sonar Depth Sounder and Auto Pilot
Onboard Facilities:
Cruise Director
Tables and Aircraft Seating
Full size Toilet and Bar facilities
Top deck open seating.
These are some of the reasons why you need to travel by using Scoot:
Managed & operated by an Australian registered ship's captain

Management with over 40 years experience in Marine Tourism Australia wide

Extensively trained crew all with Indonesian qualifications

More convenient departure times

Full comprehensive insurance cover for Passenger Liability